Agenda
The Avant-Garde Won't Give Up:
Cobra and Its Legacy [Exposition]
September 9 - October 17, 2015, New York, USA
The Avant-Garde Won't Give Up: Cobra and Its Legacy, a two-part exhibition taking place in New York and Los Angeles, will offer a broad and critical reassessment of Cobra - an essential postwar European movement named for the home cities Copenhagen, Brussels, and Amsterdam. The exhibition will follow the solo exhibition of Karel Appel, one of the movement's key protagonists, presented at Blum & Poe, New York in September 2014. Named after a seminal work by Cobra founder Asger Jorn (Danish, 1914-73), The Avant-Garde Won't Give Up pays tribute to Jorn's catalyzing role and to the movement's enduring aesthetic and conceptual influence on artists working today.
The exhibition's first part at Blum & Poe, New York will begin with the nexus of experimental practices and political activities of a group of Danish modernist artists during the Nazi occupation and will continue with the emergence of Cobra in the late 1940s. The second half of the exhibition at Blum & Poe, Los Angeles will trace the impact and legacy of Cobra in the art of the 1950s and 60s through the present day by juxtaposing historical work with a selection of contemporary practices. Independent curator and art historian Alison M. Gingeras has organized both exhibitions.

Read the full press release here.
September 9 - October 17, 2015
2727 S. La Cienega Boulevard, Los Angeles, CA, 90034,
T. 310.836.2062
19 East 66th Street, New York, NY, 10065,
T. 212.249.2249
1-14-34 Jingumae, Shibuya, Tokyo, 150-0001,
T. +81.3.3475.1631

www.blumandpoe.com
Voor exposities uit het verleden van Eugène Brands zie de pagina Exposities.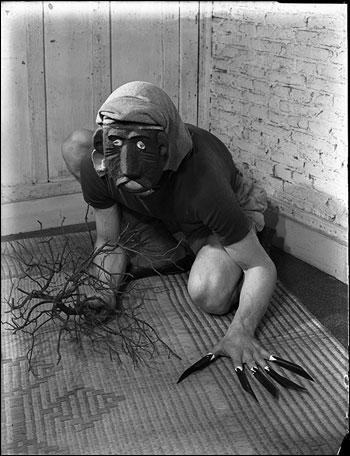 Photograph of Eugène Brands, 1947
© Frits Lemaire / Maria Austria Instituut, Photo: Frits Lemaire